Profeil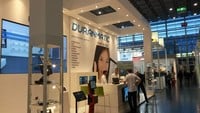 Duranmatic has extensive experience in the field of Industrial Automation, Automatic Identification and Point of Sale. Therefore we have all your questions answered. Maybe a very complex technical solution or just a very simple ...
Expertise
Our staff can offer expert information. We also have a very wide range with multiple brands per product. This means that we can offer you. A full package The various brands complement each other well. So we fully comply with your wishes. You can contact us for components or for a complete system. Everything is in this way into the hands of 1 supplier.
Technical Support
Of course, in addition to a complete range with an excellent quality / price ratio and expert information, service, good technical support, maintenance and support our top priorities. Therefore, we have a competent department Technical Services / Support. This department specializes in various products and supports you like in your technical activities or provides assistance for problems. Our 35 enthusiastic and skilled employees guarantee expert information and excellent service.