RFID solutions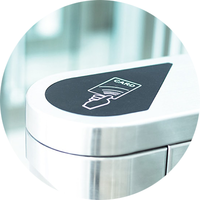 Radio-frequency identification (RFID) is a technology that allows objects to be identified and tracked wirelessly. The RFID chips are provided with electronically stored data that can be read by RFID readers by means of antennas that make use of electromagnetic fields.

Duranmatic has been a distributor of RFID readers and antennas from FEIG ELECTRONIC for years. FEIG ELECTRONIC has been a development partner and specialist in contactless identification (RFID) for over 25 years. They are one of the few companies that offer readers and antennas for all three frequency ranges with passive transponder technology: LF (125 kHz), HF (13.56 MHz) and UHF (860-960 MHz).
Contact details
Contact the Auto-ID department. The Auto-ID department is available Monday to Friday from 8:30 AM to 5:00 PM. You can also contact us directly on +31 (0) 78 65 31 872 or [email protected] .
Products by category