Over Duranmatic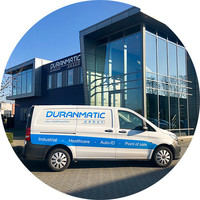 Over Duranmatic
Duranmatic BV is sinds 1985 de ideale handelspartner voor softwareontwikkelaars, system integrators, installateurs en machinebouwers. Wij leveren hardware, service en advies op het gebied van Industriële Automatisering, Auto-ID, en Point of Sale.
Alles onder één dak
Duranmatic heeft een zeer breed productportfolio, dit biedt vrijheid in merkkeuze. De diverse producten vullen elkaar goed aan. U kunt bij ons terecht voor componenten of voor een compleet systeem. Alles is op deze wijze in handen van 1 leverancier.  
Deskundig & Innoverend
Duranmatic heeft al 35 jaar ervaring! Hierdoor zijn wij  in staat deskundige voorlichting te geven en gericht mee te denken over de meest geschikte oplossing voor diverse branches. Wij spelen continue in op trends en bewegingen in de markt en assisteren onze klanten zo veel mogelijk bij de meest uiteenlopende wensen.
Support
Onze eigen support afdeling staat dagelijks paraat om u snel en vakkundig te ondersteunen. Wij bieden kosteloos 1e lijns helpdesk voor onze klanten. Hiernaast verzorgt deze afdeling reparaties, installaties en trainingen voor alle producten. Systemen worden , indien gewenst, door Duranmatic volledig gecheckt en eventuele randapparatuur wordt door ons opgebouwd en geïnstalleerd.