Hakko Electronics HMI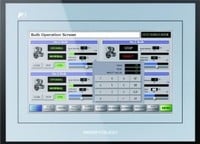 Software
Q: Hoe kom ik aan de V-SFT software en de updates hiervan?
A: V-SFT is een licentievrije software. Dit wil zeggen dat u deze eenmalig aanschaft en vervolgens op alle PC's binnen uw bedrijf mag installeren. Alle updates kunt gratis downloaden via de volgende link van de site van

Hakko Electronics

of aanvragen bij de support afdeling.Tel: 078-6531870 Mail: [email protected]
Q: Verzorgen jullie ook trainingen?
A: Jazeker; u kunt dit afstemmen met uw Rayonverantwoordelijke.
Q: Op welke manieren kunnen de HMI's worden geprogrammeerd?
A: Met het software pakket V-SFT via Ethernet, USB, Seriele verbinding of via USB stick of CF card.